Meyer & Associates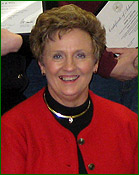 Judy Meyer, President
Meyer & Associates are authorized providers of the world famous Dale Carnegie Training® programs for Central, Western & Northern Wisconsin.
Values
We (Meyer & Associates LLC) conduct ourselves and our business ethically according to the principles and teachings of Dale Carnegie.
Vision
Our Vision as Meyer & Associates LLC is to be the premier, local corporate training and development partner of businesses in our fifteen county Dale Carnegie Franchise.
Mission
It is our mission to provide training programs that meet and exceed the clients' expectations and produce long term client relationships to build the client's most important asset 'their people." We will continue to focus on new client relationships in our pursuit of business growth. As Meyer & Associates LLC we will strive to remain profitable, continue to grow, make quality contributions to the communities in which we function, and provide team members quality jobs and rewarding careers.
Client Experience:
We continually work with companies in the health care, manufacturing, construction, retail, financial, & service industries. Several corporate clients include:
Marawood Construction Services
Bull's Eye Credit Union
Staab Construction Company
Team Schierl
Kolbe & Kolbe Millwork Company, Inc.
Weather Shield Manufacturing
Engineered Fasteners
Wal-Mart
John Deere
Joerns
Packaging Corporation of America
Ministry Medical Group
Greenheck Fan Corporation
Midelfort Clinic
Phillips Plastics
ITW
Roehl Transportation
Millis Transfer
Figi's Gifts
Wausau Homes
We are committed to helping individuals and the organizations they represent move to higher levels of excellence. We achieve this by utilizing a time-phased training and consulting process turning visions into reality.
---
About Judy Meyer:
President of Meyer & Associates LLC. Franchisee for Dale Carnegie & Associates® in Central, Northern & Western Wisconsin. Her team includes two sales associates and three Dale Carnegie Course® certified trainers, one Sales Advantage Trainer candidate and an office assistant.
Trainer Certification:
Dale Carnegie & Associates®, Inc
Licensed Trainer in the Dale Carnegie Course® The Sales Advantage
Leadership Training for Managers
High Performance Teams
World Class Customer Service Course
Employee Development Course & Customer Relations Course

Corporate Training Experience:
In July of 2007 Judy was the #1 trainer in the United States and #3 globally. She personally maintains a 96% Total Quality Index Trainer Ranking. As President of Meyer & Associates she continues to work directly with clients forming and delivering public classes in the small towns as well as corporate programs throughout her territory. Her territory penetration numbers rank consistently in the top 10%. She works diligently within her client organizations addressing critical training and coaching needs. Judy served as Area Manager for John Hines & Associates from 1990 to 2003. In this role she focused on sales, delivery of programs, territory management, and development of additional instructors and sales associates.

Industry Experience:
Judy has been in the Performance Improvement field with Dale Carnegie & Associates® for over 29 years. Before joining Dale Carnegie & Associates®, Inc. full time in 1990, she served as Assistant General Manager/Food & Beverage Director in the motel/restaurant industry. She has over 18 years of leadership experience in the service industry. Judy is dedicated to developing strong trainers and delivering quality programs throughout her territory.
Education:
B.S. in Education (Sociology & Physical Education) University of Wisconsin – Milwaukee, WI